Ingrid Sturgis
What Is a Media Ecosystem?
Derived from the physical science term ecosystem, which describes the interdependence of organisms and their physical environment, a media ecosystem is the system of interdependency among media-related entities such as newspapers, magazines, radio, television, as well as the Internet, and user-generated content, including blogs, audio and video platforms, social networks, and communications devices such as tablets and smartphones.
To define the new media ecosystem, you have to go back in time to understand what the media business was like before the Internet (Figure 1). Back then, the high costs of traditional publishing— paper, printing presses, newsroom personnel, unions, equipment, and distribution—ensured a high barrier to entry for would-be newspaper publishers. Scarce resources allowed publishers to control all levels of the news production process, including distribution and sales. They also created an environment that helped advertising agencies grow. Advertising became one of the primary revenue streams for publishers to offset the expensive production process. Reporters and editors were the gatekeepers who determined what stories and information would be covered and disseminated. Customers were observers. They consumed what they were given. Their input with the publishing process was typically as part of a community board, if a news organization had one, or as writers of letters to the editor to complain or praise the coverage of a news story. In the days of mass media, news and information content was designed to be delivered to the largest audiences, whose attention and engagement fueled the ecosystem.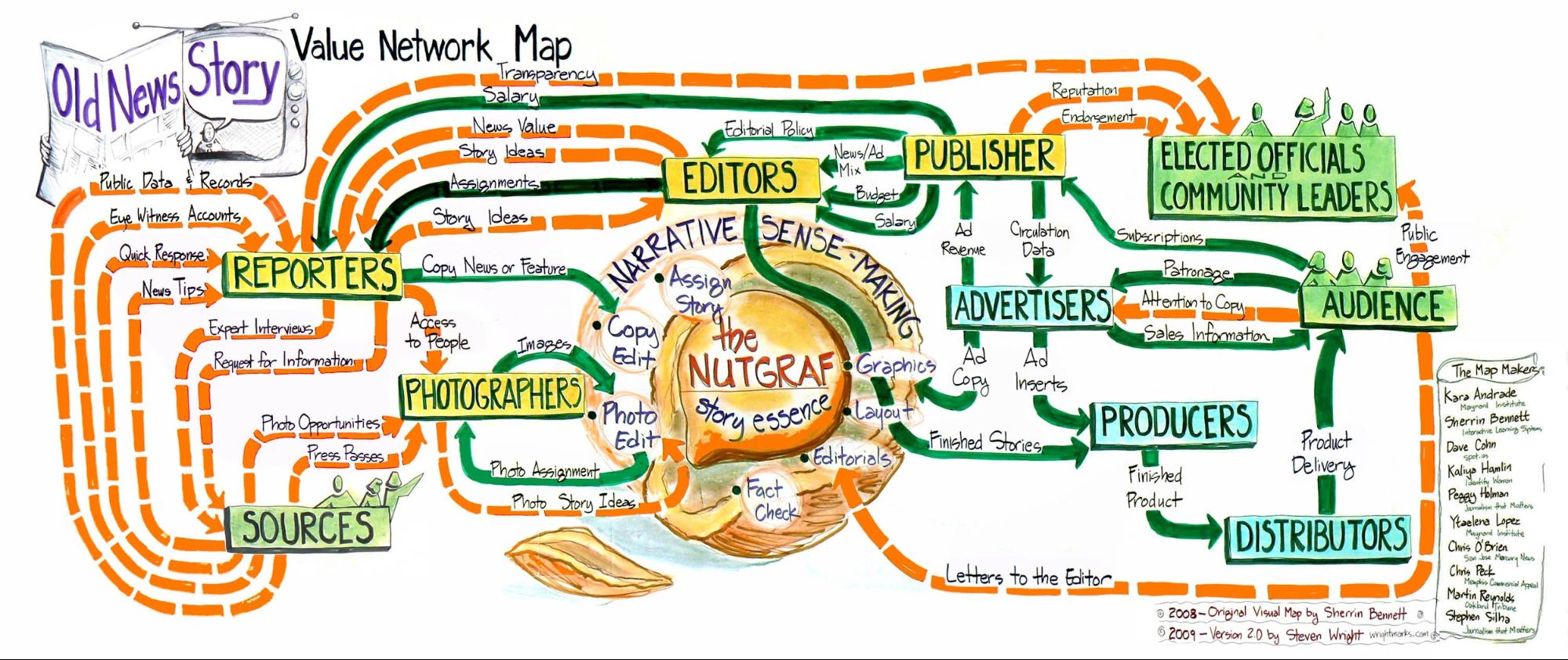 In the mid-1990s, the Internet began to upend the newspaper business. The digital, interactive technology spurred the convergence, or merging, of mass media including print, television, radio, the Internet, and telecommunications into a digital format. Barriers like million-dollar printing presses had kept competitors out of the marketplace for content and audiences. With digital products, the barriers to entry into the marketplace fell. Today, anyone can be a publisher, or as professor Jay Rosen[1] of New York University put it, "the people formerly known as the audience now have some control of the message and access to dissemination." Everyone is contributing to this larger media ecosystem. The advantages for mass media publishers have shrunk dramatically, creating a fundamental shift in the balance of power between traditional media and its customers. Traditional media is no longer the gatekeeper of news as new voices and niche content continue to grow online (Figure 2). Social media platforms and online tools have allowed customers to talk back, talk to each other, as well as create, share, and alter information outside traditional media organizations (Figure 3).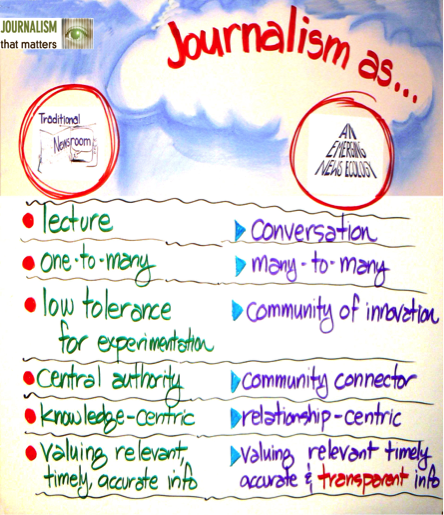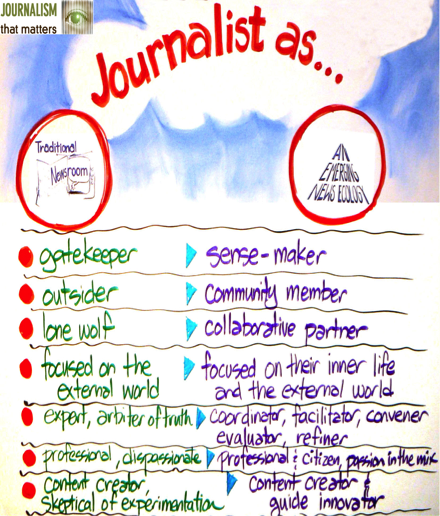 The social media space has spawned much of the disruption of the distribution model of publishing. Peer-to-peer technologies have dislodged industry "middle men" and challenged many media industries including music, software, and other fields like travel. Innovations in digital technologies disrupted media spaces, connecting consumers to each other in spaces like eBay and etsy.com or in streaming music spaces like Pandora or in the recommendations and review sections of websites like Amazon and in forums like Reddit.
The 2017 Conversation Prism Version 5.0 (Figure 4), is an ever-changing attempt to visualize these social networks and spaces emerging on the web. The graphic, originally created in 2008,[2] maps the evolving "conversation space" that includes such digital behemoths as Facebook and Twitter, but also new spaces and innovations in areas such as the quantified self where we digitally capture human body functions through wearables or virtually compete in a run with friends. The Conversation Prism Knowledge Wiki[3] created by Dr. Michelle Ferrier and her undergraduate students at Ohio University provides a deeper look at each of those tools and platforms in the prism and includes a general overview of the tool/platform, the history of the space, the technological events that caused the tool to emerge, as well as current and future challenges. Each area of the prism is explored more fully, including a pro-con analysis of the top tools in each area and their functions, along with user personas of those using the tool and target audiences.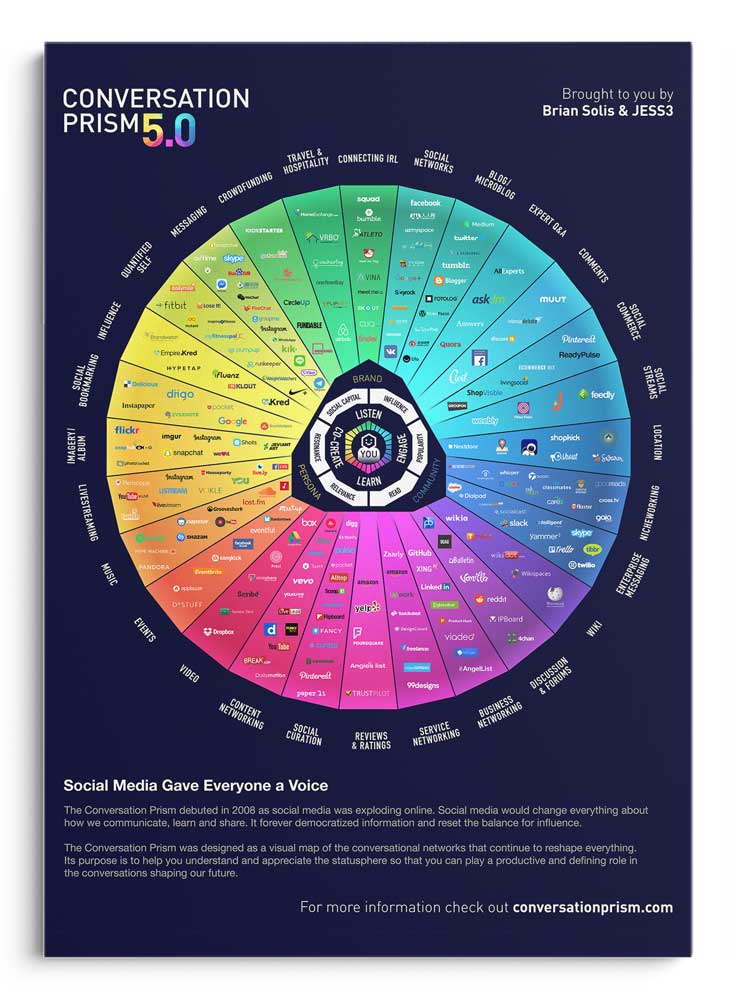 In the past decade, the digital revolution has transformed the media, disrupting traditional methods of reporting, distribution, and news presentation. The development of high-speed Internet-connected tablets, smartphones, touch-screen displays, large screens, and small monitors provides content creators with an evolving array of platforms on which to imagine, redesign, and create innovative multimedia news products. Worldwide adoption of social media—Facebook, Twitter, Google, YouTube, Snapchat, WhatsApp, and others—has changed the flow of information and redefined the media ecosystem. The shift is more than just losing market share to the latest fad in widgets; it has expanded the media ecosystem.
Today, like a thriving wildlife habitat, there is a dynamic news ecosystem made up of many people, organizations, Internet Service Providers, and media companies working to meet the news and information needs of communities. For example, Jeff Jarvis,[4] director of the Tow-Knight Center at the City University of New York Graduate School of Journalism, resides in New Jersey, where he says the media ecosystem, "has a growing and disorganized hodgepodge of sites, services, communities, and individuals that operate on various platforms with different motives, with more or fewer resources, and with business models from none to not-for-profit to hoping-for-profit to profitable. They all contribute to a larger ecosystem of information in the state and its communities."
In addition, new social media platforms and technologies are continuing to reshape the media landscape. In the content space with the proliferation of niche and individualized content and the technology and new devices and network spaces, new media startups continue to shape a very different digital information culture and marketplace.
Define the Market
What to call your customer: Or is it the audience or the public?
A customer is the person who buys what you are selling. The audience are the people who see your work. The audience is generally larger than your customer base and may include some of your customers. Users are the people who engage with your publication through digital media and technology.
How do you go about learning what your empowered customer or audience wants? The first step is called "customer discovery."[5] The objective is to refine the problem you are solving for the customer and to determine which market segment is the target of the solution. The market segmentation graphic shows that your idea may target any of these market segments—demographic, psychographic, behavioral, or geographic—individually or in combination (Figure 5):
Main Bases of Segmentation
Geographic
Demographic
Behavioural
Psychographic
e.g. "Customers 10 miles or more outside of a major metropolitan area."
e.g. "College students ages 18-24."
e.g. "Customers wanting a competitive edge on graduate admissions applications."
e.g. "Students who are interested in sustainability and environmental issues."
Location
Region
City/Town/State
Age
Gender
Occupation
Socio-economic Group
Benefits sought
Loyalty status
Ready to buy
Early adopters
Lifestyle
Attitude
Education Level
Class
Personality
Figure 5. Main Bases of Segmentation
For example, Blavity[6] founders Morgan DeBaun and Aaron Samuels knew they wanted to create a community for black millennials and multicultural influencers. They identified both a demographic and a psychographic market segment underserved by other media companies. The two founders developed some basic assumptions about their customer and identified the problem they needed to solve for the customer. They were then able to turn those assumptions into hypotheses that they could test.
They were able to tap into several prevailing assumptions and trends:
African-Americans millennials were valued as trendsetters and influencers in popular culture as well as "early adapters" of new technology—early adopters who remix and adapt current technologies.
African-Americans were frustrated by a low level of inclusion of Blacks in television programs, advertising and point-of-purchase communication; and,
African-American-oriented news media were losing circulation and struggling to find advertising revenue.
As a result of its sharp content focus on surfacing the voice of this underserved community and the use of digital technologies to develop its content platform, Blavity has grown to become one of the fastest-growing digital media outlets on the web, reaching nearly 7 million users a month[7] since its launch in 2014. DeBaun and Samuels say their focus on user-generated content, video, and a custom-designed backend, offers a space for black millennials to own their story and share their perspective.
These founders are practicing what entrepreneur and author Johnathan M. Holifield calls "inclusive competitiveness," which he defines as "a framework that allows businesses to capitalize on the potential of underserved audiences to help fuel the next generation economic vitality in a way that is more inclusive and durable."[8]
Inclusive competitiveness, Holifield says in his 2017 groundbreaking book, seeks to tap the talents of diverse, disconnected workers, including blacks, Latinos, women, and residents of low-income communities, to participate in the global innovation economy.
Conducting Market Research
Audience analysis is a key component of customer discovery. Good product or service solutions come from a human-centered approach to design. Likewise, the business model will evolve as you explore your customers' needs. Identifying your initial target market will help you more clearly define the scope of your project and plan for the first several years of operations. It also will help you figure out how to allocate your scarce resources—time and money. For an entrepreneur to be successful, they must have a firm perspective of the people they are trying to serve, including their needs, habits, aspirations, and environment.
To engage in audience analysis is easier today with all the demographic resources available online. There are a number of market research reports to help entrepreneurs refine segmentation, consumer preferences, as well as compile demographic profiles that can help them discover motivations and buying patterns.
Websites such as Forrester,[9] eMarketer,[10] Pew Research Center, Nielsen, and American Press Institute offer demographic data that can be used to get a better sense of the digital skills, income, lifestyle, and news and entertainment habits of your target market. The data provided by these organizations—some of which is released for free—can be used to fill in demographic and psychographic information about your potential users.
For example, entrepreneurs can start with gathering demographic information, such as age, ethnic background, income, gender, and more from the U.S. Census Bureau,[11] which offers a birds-eye view of demographic trends in everything from the economy to entrepreneurship to workforce and population shifts. Similarly, the Bureau of Economic Analysis (BEA)[12] focuses on the economy by providing relevant data on issues such as economic growth, regional economic development, inter-industry relationships, and the United States' position in the world economy.
For media research, Pew Research Center[13] is a think tank and an excellent repository of trends and data on news and information, audience engagement, social media, and emerging news providers. The American Press Institute[14] has developed a tool called Metrics for News, content analysis software that helps publishers better measure audience engagement. Local Independent Online News (LION) Publishers[15]offers workshops to help small publishers to develop skills to build their audiences. Kantar Media[16] offers international consumer insights for advertisers, agencies, and media owners to reach key consumer audiences. In addition to its focus on online and offline consumer behavior, attitudes, and media consumption, Kantar specializes in sports, healthcare markets, and new technology. Finally, Nielsen[17] offers information on consumer trends and habits worldwide.
Creating User Personas
Now that you have discovered the demographics of your audience, you have a good idea as to whether your customers are using the devices you are designing for, whether they use other media, and where they are located. But this data is for your whole target audience. How can you focus on the needs and design for your "ideal user"? are tools that entrepreneurs can use to drill down into the ideal audience member and add psychographic information such as behaviors and lifestyle information. According to HubSpot, a company that provides social media marketing, content management, web analytics, and search engine optimization services, demographics explain who your customer is while psychographics explain why they buy.[18]
Usability.gov, a leading resource for guidelines and best practices in user experience online, says the purpose of personas is to "create reliable and realistic representations of your key audience segments for reference."[19] When used as part of a strategy called user-centered design or human-centered design, personas can help to tell the story of your customers' needs. They also help to define your brand and your mission, as well as how to market your site. Often, a user persona will include demographic data like "50-year old, African-American female, married, earns $75K a year," as well as specifics like "picks children up from school at 3 p.m. and drives to after-school activities three times a week." Some teams give their user personas names and even draw or find an image that represents their ideal customer. The goal is to know how your ideal user goes about his or her life and how your product or service will intersect with their lifestyle.
Entrepreneurs must learn to dig deeply into their customers' media consumption habits. Consider:
Information needs. What information or activities will serve the user's needs? Will they need to perform online transactions to purchase products, such as event tickets?
Research modes. Where does your targeted user search for information? How do they prefer to access information?
Expertise. Is your targeted user knowledgeable about the information you provide? Or do they need explainer videos with background information, like those provided by Vox?[20]
Technology. How will users access your information? Will they use mobile devices or laptops? Will they be comfortable with the latest technology trends or will they need help navigating to new technology on your site?
How do you develop psychographic information for user personas? Many large corporations use observation. This can take the form of field trips or site visits to meet their customers where they are likely to be. For example, cosmetic companies will visit college campuses during homecoming to meet students they view as their target market. Essence magazine holds a music festival in New Orleans every year with empowerment and editorial meet-and-greet sessions to develop a deeper understanding of readers' needs. Local newspapers often attend community events like weekly farmers markets to meet their customers. Others conduct focus groups where potential customers discuss their interests, activities, and opinions.
But it does not have to be that organized. As media entrepreneurs, you can use your journalism training to meet and interview potential customers everywhere from the grocery store line to the car wash to the street fair to collect information to create user personas. Interview them about their reading and shopping habits. Do they read magazines or read stories via smartphones using Snapchat? Do they access the web via tablet or laptop? Do they send email or text messages? Do they binge-watch on Netflix or seek out must-see TV? Ask about their values, personal goals, opinions, hobbies, interests, shopping habits, entertainment interests, and lifestyle. Use their answers to develop a solid understanding of your audience.
User Persona Tools
Once you have identified where you want to conduct your psychographic research, consider the information you need to build your profiles. There are a number of resources to help develop psychographic user personas. Smashing Magazine[21] offers a closer look at personas.
Behance,[22] a creative talent website, has a helpful tool to help entrepreneurs envision features and services that would benefit specific users. Marketing company XPLANE has created the Empathy Map, a tool that can help to create a user focused profile. XPLANE's worksheet focuses on getting at what's most important for your customers—defining their goals and aspirations as well as their preoccupations. It also asks about their environment and influences as well as their behavior toward others. The Empathy Map worksheet[23] focuses on six questions that media entrepreneurs can use to develop strong psychographic profiles.
What does your customer think and feel?
What does your customer hear?
What does your ideal customer see?
What does your ideal customer say and do?
What are her pains, fears, frustrations, obstacles?
What are her gains, wants, needs, measures of success?
Two important elements that should not be overlooked in developing these personas are culture and language. The U.S. Census Bureau forecasts major demographic shifts that can significantly impact businesses serving consumers. According to Johnathan M. Holifield,[24] diversity remains a strong economic driver and entrepreneurs must adopt a strategy that embraces diversity through inclusive competitiveness.
In addition, media entrepreneurs must also make sure to take into consideration their target customers' media habits. For example, when talking with a young man working as a cashier at Target, a media entrepreneur was able to learn that he was a student at a local college. He said he thought print publications were going extinct and digital was the way to go. He got his news and information from ESPN and GQ channels using the Snapchat app on his smartphone. If you are targeting a customer like him, choosing the right platforms to reach him is important.
Here is a very basic user persona based upon what we know about the ideal customer for a women's magazine (Figure 6):

Here is what a set of user personas might look like for a general interest newsmagazine (Figure 7):
Figure 7
Mindy, 40
Brett, 36
Soraya, 35
Malcom, 25
Denisha, 29
Experienced communications professional, specializing in crisis management, media relations, writing, editing, message development, and online marketing.
Associate Producer for Hearst Television, Washington, D.C. bureau.
Life coach.
First-year graduate student at University of Maryland, pursuing a Master's degree in Speech Language Pathology.
Account exec who wants to own her own company to take her supervisor's job.
Also specializes in artist development, and as a crowdfunding specialist to help launch careers for young creatives.
Digitally literate. Works on the cutting edge of journalism. Specializes in using social media to advance storytelling. Travels a great deal for work.
Went from size 18 to a size six in seven months. Wants to be an inspiration to anyone who has been struggling with their weight. Recently compiled recipes for a cookbook to help people overcome eating disorders.
Wants to use degree to help improve lives of those with speech disorders related to autism. Works as graduate teaching assistant and part-time job as research assistant for a speech pathologist.
HBCU graduate.
Has 401K, some stock and condo. Laptop, smart phone, social media.
From Harlem, New York.
Originally from England. Trains for body-building competition. Loves to read magazines for relaxation. Engaged to get married in a year.
Originally from Cleveland. Now vegetarian and self-taught home cook. Church-goer who uses positive affirmations to help maintain her weight loss. Works out daily.
From Charleston, South Carolina. Runs marathons.
From Atlanta. Travels, works out, has active social life. Happily single, but wants to marry one day and have kids. Goes to site for networking, fitness, finances and fun; eats well and doesn't want health problems of her parents and elders.
Check Website Analytics
Once your site is up and running, you can examine the data from the content to get a good idea what has moved people to click, call, or buy. Basic tools like Google Analytics[25] can give a snapshot of the user, as will Facebook or Twitter[26] analytic tools. Other more commercial marketing analytics include HubSpot,[27] Alexa, Chartbeat, and Viafoura.
The Wall Street Journal online media kit[28] uses information gathered from the commercial analytics tool comScore Media Metrix. In this sample from the first quarter of 2017,[29] WSJ.com gathered information from users who visited the site on its digital platforms in the past 30 days with a household income of $100,000 or higher. According to the media kit, WSJ.com reaches top management and has a reach of 42 million digital readers per month, all seeking news and information critical to their businesses and personal lives. Their users are made up of more men than women with an average age of 43. The users have an average household income of $242,000 and an average net worth of $1.5 million. Most have graduated from college and slightly less than half are considered millionaires.
Do a Competitive Analysis
A competitive analysis allows you to unearth your direct and indirect competitors. You may think you're competing with a known competitor (let's say another media outlet in your same niche) but on the Internet, everyone has the potential to be your competitor for audience. This is especially true when we think about "search," meaning when potential users are looking for a product like yours. Where do they end up?
If you have a Google Adwords account, you can use Google's Keyword Planner[30] tool without placing an ad. You can also get data from Google Trends,[31] though if your product is in a less mainstream niche, it may not be helpful.
With paid software, such as SEMRush[32] and SpyFu,[33] you can see what your potential audience (and your competitors' existing audience) is searching for that is resulting in traffic to their site.
For instance, on SpyFu, you can type in the URL of a competitor's website and the software shows you its organic competitors on the Internet.
Let's say you were the editor of Entrepreneur magazine. You could type in https://www.entrepreneur.com and find out that your competitors not only include Inc Magazine but also bplans.com. You could see which keywords are especially valuable (attracting lots of traffic). And you can see where your keywords intersect, and where you're doing better and worse than competitors at capturing an audience interested in topics relevant to your media business and outlet. You can sort and use this information to determine where it might make sense for you to add content to serve the needs of your niche (as demonstrated by search) and compete better in search.
These tools are also useful if you do paid advertising to attract people to your site. They let you see whether competitors are placing PPC (pay-per-click) ads, and in some cases, the best-performing PPC ads themselves.
All of this competitive intelligence can help you make decisions about your editorial narrative and content direction, as well as your ad strategy and marketing in general. We'll talk more about Marketing in the Marketing & Analytics chapter.[34]
Conduct a User Survey
You can gather information to validate your assumptions by conducting a survey. It is another useful source of information on potential customers' habits, needs, and consumption patterns. Surveys can be designed and distributed online, or conducted by telephone or in person. Research gleaned from surveys allows you to see similarities among target users. For example, a survey may reveal that many of your users take yoga classes. Your research may show that millennials indicated an interest in trap yoga, that seniors seek chair yoga, or that men are trying bro yoga. A survey can help identify your audience's needs. You can then use the survey information to fine-tune your unique value proposition and distinguish your product from your competition. For example, The Texas Tribune describes itself as the "only member-supported, digital-first, nonpartisan media organization that informs Texans—and engages with them—about public policy, politics, government and statewide issues."[35] According to a report by Southern Methodist University journalism Professor Jake Batsell for the John S. and James L. Knight Foundation, "Earning Their Keep: Revenue Strategies From the Texas Tribune and Other Nonprofit News Startups,"[36] The Texas Tribune conducted an audience identification survey in 2012 that revealed that most of their readers were college graduates who voted in the last election and that half had household incomes of more than $100,000. This research helped the Tribune raise $300,000 from one sponsor to reach its affluent, intellectual audience. Instead of seeing itself as a competitor to other local news organizations, the Tribune calls itself a supplemental news source for Texas. Where other news organizations have cut back on statehouse coverage, The Texas Tribune covers it and supplies it to newspapers around the state. The Tribune's unique value proposition is that it is filling a need that was going unmet for its audience (readers) and it has made customers of competitors by providing in-depth political coverage.
Now that you have acquired your audience, what can you do to keep them and make them pay for your products and services?[37]
1. Create opportunities for in-person engagement.
Face-to-face events help to develop audience loyalty, according to Batsell.[38]
Some examples include The Texas Tribune Festival, which engages Tribune readers as well as sponsors and advertisers. The events can include readings with local and well-known authors, meet-the-staff sessions, coffee shop or interest group meetups, summer festivals, or discounted group outings. The idea is to deliver unique experiences, Batsell says, that are worth the time. The payoffs can be building trust with your audience as well as increased online engagement and corporate support.[39]
2. Crowdsource the news.
Use your users as a news resource. User Generated Content is any type of content — text, YouTube videos, audio, testimonials, tweets, Facebook posts, etc. that has been created by unpaid contributors, which publishers may distribute on their sites and use to promote their brands.
For example, Off The Bus 2012[40] was an Open Reporting initiative of Huffington Post and News Assignment to cover the 2012 election. It encouraged readers to attend political events, record them, and submit them to the online publication. Twelve thousand people signed up. Public participation gave readers an inside view of the projects that the site was reporting on, spurred reader trust, and improved communication with its audience. Using readers in this way can help build trust and develop a stronger story because the user may have some access or knowledge that the news organization does not. However, be careful of online commenting. Some news organizations have had to find improved ways to manage the troubling comments that arise from some stories.
3. Serve a niche.
Social media technology allows news organizations to serve a narrow, but passionate niche. Called passionate verticals, this niche can be defined by geography or interests. One example is SCOTUSblog, a law blog that focuses on the Supreme Court of the United States (abbreviated as SCOTUS) by tracking live cases as well as maintaining an archive of cases argued before the court. Written by lawyers, law professors, and law students, the site leadership also live-blogs court decisions and hosts symposiums with influential experts on important court cases.
4. Develop alternative story forms.
Advances in technology have made it easier and more affordable to give your targeted audience new interactive experiences that can spur engagement and keep them on-site longer. Use of gaming techniques and data-driven graphics and immersive video projects can give users an opportunity to explore a subject deeply or to provide entertainment. For example, the New York Times garnered praise for "Snow Fall,"[41] an interactive, seamless multimedia blending of video, photos, and graphics in a series about an avalanche. Similarly, Wired magazine's "Cutthroat Capitalism" game[42] brought home the geopolitical social and economic issues that drove desperate Somali fishermen to hijack and capture ships for ransom. Both interactive projects entertained and informed readers as well as provided professional buzz for the work of the news organizations.
5. Develop paying customers for your product.
There was a time when newspapers relied on advertising for most of their revenue. A trope was that readers would not pay for content, and many news organizations opted to make their content free to everyone online. As their online audiences grew, many media entrepreneurs were hesitant to ask them to pay. That mindset has thankfully passed. Now sites like the New York Times, Wall Street Journal, and Washington Post feature "metered" pay walls that give users a glimpse of their news product and entice them to pay after a certain number of views. Other media entrepreneurs have used crowdfunding to raise money for their sites and others offer modest subscription rates, which indicate readers are willing to pay for news. But users paying for news may not be enough to fund a project. Media entrepreneurs have to develop a variety of products for their audience. They can include events; special news products, such as special commemorative issues; access to specialized data; access to technology tools; and company promotional and branding souvenirs.[43]
Once you learn how to identify and understand your customer, you will gain an invaluable skill that will serve you greatly as an entrepreneur as well as in other endeavors. Overall, be willing to adapt and change as your market evolves and grows.
Exercise
TRY IT: STAKEHOLDER MAPPING
Visualize the ecosystem of your service or product to learn how different stakeholders influence your customer's experience.
Stakeholder mapping in four steps:
Define your stakeholders.
Analyze stakeholders by impact and influence.
Plan stakeholder communications and reporting.
Engage with your stakeholders.
Use these steps along with the stakeholder maps and templates to manage your stakeholders effectively and turn them into project champions!
Source: Stakeholder Mapping https://www.stakeholdermap.com/[44]
Exercise
TRY IT: BRAINSTORM STAKEHOLDERS / SOLUTIONS 
Topics for discussion: Any other burning questions/challenges to address?
Identify people for groups.
Identify stakeholders on sticky notes.
Convene in breakout rooms and pick top six stakeholders.
Create a column for each stakeholder.
Ideate with one idea per sticky.
Reconvene in a large room with your stakeholder/solutions list.
Source: http://media-entrepreneurship-course-development.wikispaces.com[45]
For more stakeholder mapping exercises, see the chapter on Ideation.[46]
RESOURCES:
Readings
Beyond demographics, the use of psychographics helps designers and marketers better understand audience perceptions and behavior.
Video
Ingrid Sturgis is an associate professor in the Cathy Hughes School of Communications at Howard University. She was a reporter and editor for The Philadelphia Inquirer, the Times-Herald Record, and The Poughkeepsie Journal as well as founding managing editor for magazine startups BET Weekend and Savoy. She has worked online as a senior programming manager for AOL's Black Voices, and as editor-in-chief for Essence.com. Sturgis is the author of the anthology Are Traditional Media Dead: Can Journalism Survive in the Digital World, and co-editor of Social Media: Pedagogy and Practice. Reach her on Twitter at @isturgis.
---
A tool that entrepreneurs can use to drill down into the the ideal audience member and adds psychographic information such as behaviors and lifestyle information.