Part One: Community Building
---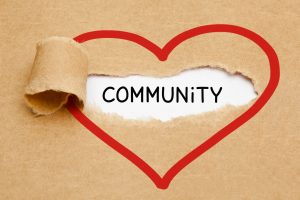 The concept of community building has no universal definition. However, this could be more positive than negative because having no universal definition also keeps the conception of community fluid, which we believe speaks more accurately to its diverse complexities. To have some idea of what we mean by community building we (the editors) start this overview of the first three chapters by first giving you a look at how we conceptualize or think about community.  Community can be geographical, virtual, groups of people with similarities such as a community of community practitioners. Importantly, we see community overall as a way of being and doing or navigating life with others. Therefore community building means actively seeking ways and resources to bring forward co-liberation. This might mean we find ourselves building community by holding space for difference. For example, as editors of this textbook, we are community psychologists working in academia and the community, an industrial/organizational psychologist, and an instructional designer.  Our commonality is our passion for social and racial justice. We believe that this passion also shows up in the case stories you will find in this section.
The first case story,  Cultural Development in Underrepresented Communities: Using an Empowerment and Citizen Participation Framework is offered by Dr. Jacqueline Samuel.  Dr. Samuel's work illustrates community building with those who seek to use art and culture as viable avenues for building community.  Students interested in arts and culture, and the health and well-being of communities of all types will find a plethora of information that might guide your journey, as using the arts to inform and reclaim power is not at all a far-reaching idea.
The second case story in this section is Dr. Amber Kelly's and Dr. Kathleen McAuliff's (2021) work alongside members of the disability community, seeking to advance inclusivity in all facets of community life. Dare2Dialogue  brings awareness around negative stigma associated with a disability and ways to address these challenges through dialogue and centering and raising the voices of people with disabilities.
The third case story in this section is the work of Dr. August Hoffman. Dr. Hoffman's passion is visible as he comes alongside of a student using green space to promote communal experiences for the student completing an Individualized Studies program with an emphasis on Gardening Development at Metropolitan State University. The case study moves the reader through the student's experiences with growing healthy foods for the community as part of education, with the ultimate goal of helping children understand the benefits of healthier eating and the actual origins of the foods they consume.